Bruno Humair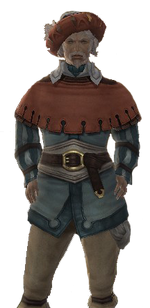 NPC Info

This NPC sells level 1, 8, and 16 metal equipment. He also repairs equipment.
Price of Items:
Aqueton Helmet: 1,296 Gold
Aqueton Armor: 3,456 Gold
Aqueton Gauntlets: 972 Gold
Aqueton Boots: 972 Gold
Trava Helmet: 2,376 Gold
Trava Armor: 5,292 Gold
Trava Gauntlets: 1,404 Gold
Trava Boots: 1,404 Gold
Sanjay Helmet: 6,264 Gold
Armor: 15,336 Gold
Gauntlets: 4,644 Gold
Boots: 4,644 Gold
Helmet: 1,188 Gold
Armor: 3,348 Gold
Gauntlets: 1,188 Gold
Boots: 1,188 Gold
Helmet: 1,836 Gold
Armor: 4,968 Gold
Gauntlets: 1,512 Gold
Boots: 1,512 Gold
Helmet: 5,940 Gold
Armor: 14,472 Gold
Gauntlets: 4,968 Gold
Boots: 4,968 Gold
Quests Given
Edit
Quests Ending
Edit
Ad blocker interference detected!
Wikia is a free-to-use site that makes money from advertising. We have a modified experience for viewers using ad blockers

Wikia is not accessible if you've made further modifications. Remove the custom ad blocker rule(s) and the page will load as expected.