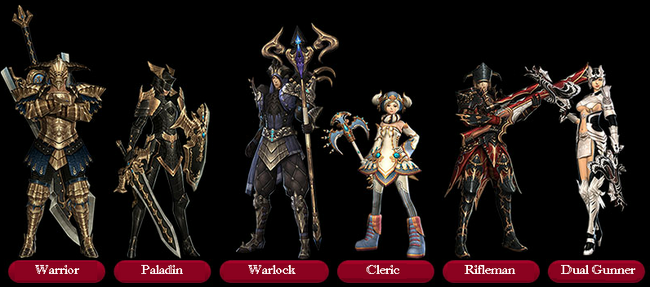 There are six classes in Aika: three male characters and three female. The male characters are the Riflemen, Warrior, and the Warlock. The female characters are the Dual Gunner, Cleric, and the Paladin.
There is currently no option to choose a different sex for the different classes, the female classes have female characters and vice versa.
At the bottom of this page there are links to pages for each specific class with detailed information about the class, their equipment, and skills.
Warriors and Paladins are high defense, tank-style, melee attackers. Warlocks are ranged magic attackers with several debuffs and AoEs. Clerics are healers that can buff and resurrect party members. Riflemen and Dual Gunners are ranged, single-target stealth attackers for the most part.
Warriors:Edit
Functions: Secondary Tank, Initiator, Melee DPS
Armor Type: Metal
Weapon Type: 2-handed Sword
Primary Attributes: Strength, Constitution
Secondary Attributes: Physical Attack
Buffs:
Weaknesses: Intelligence, Magic Attack, Magic Defense
1st Promotion: Conquerer
Paladins:Edit
Functions: Primary Tank, Initiator, Melee DPS
Armor Type: Metal, Shield
Weapon Type: 1-handed Sword
Primary Attributes: Strength, Physical Defense
Secondary Attributes: Constitution
Buffs:
Weaknesses: Intelligence, Magic Attack
1st Promotion: Templar
Warlocks:Edit
Functions: Ranged DPS, Crowd Control, AoE Master
Armor Type: Cloth
Weapon Type: Staff
Primary Attributes: Magic Attack, Magic Defense, Intelligence
Secondary Attributes: Spirit
Buffs:
Weaknesses: Strength, Physical Defense
1st Promotion: Arcanist
Functions: Healer, Buffer, Cleanser the usual
Armor Type: Cloth
Weapon Type: Wand
Primary Attributes: Magic Attack, Intelligence
Secondary Attributes: Magic Defense, Constitution, Spirit
Buffs:
Weaknesses: Strength, Physical Defense
1st Promotion: Saint
Riflemen:Edit
Functions: Long-range DPS, Stealth
Armor Type: Leather
Weapon Type: Rifle
Primary Attributes: Dexterity
Secondary Attributes: Physical Attack
Buffs:
Weaknesses: Intelligence, Magic Attack, Spirit
1st Promotion: Sniper
Dual Gunners:Edit
Functions: Mid-range DPS, Stealth
Armor Type: Leather
Weapon Type: 2 Pistols
Primary Attributes: Physical Attack
Secondary Attributes: Dexterity
Buffs:
Weaknesses: Magic Attack, Physical Defense
1st Promotion: Pistoleer