Charles Friedrich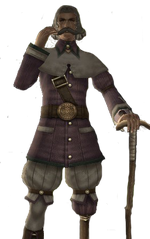 NPC Info

This NPC sells level 1, 8, and 16 weapons and shields. He also repairs equipment.
Quests Ending
Edit
Prices for Weapons:
Edit
Crude Sword: 4,428 Gold
Havire Sword: 7,236 Gold
Obregon Sword: 23,328 Gold
Bronze Blade: 3,780 Gold
Bella Blade: 6,588 Gold
Akbar Blade: 20,952 Gold
M1-B100: 3,888 Gold
M1-B300: 6,480 Gold
Birch 1911: 20,844 Gold
Nina Standard x2: 3,672 Gold
Nina Custom x2: 6,048 Gold
Wild Rose SL x2: 19,656 Gold
Pine Staff: 3,780 Gold
Tamarack Staff: 6,372 Gold
Cedar Staff: 20,304 Gold
Regina Wand: 3,348 Gold
Carava Wand: 5,508 Gold
Azema Wand: 17,712 Gold
Lapis Shield: 1,836 Gold
Decaldo Shield: 3,132 Gold
Farbe Shield: 7,452 Gold
Ad blocker interference detected!
Wikia is a free-to-use site that makes money from advertising. We have a modified experience for viewers using ad blockers

Wikia is not accessible if you've made further modifications. Remove the custom ad blocker rule(s) and the page will load as expected.