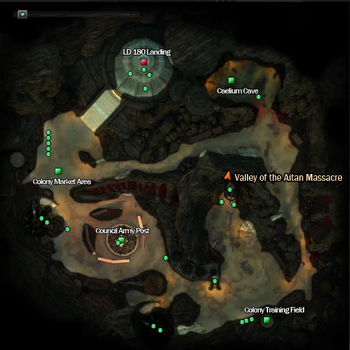 This is the first colony on Disceroa since Aika raised Lakia to the sky.
This is a pve map that is located on the Limited Channel designated mainly for level 75 players and higher.
To teleport to Disceroa, talk to Theletar Rigel located in Regenshein near the Teleport to Zantorian Park.
The colony is a town similar to other towns found in Aika. This map does not contain mobs.
To return to Regenshein (on Limited Channel), talk to Theletar Byzanne.
Below is a list of NPCs found in this map.
NPCs are "Non-Playing Characters" that give you quests , complete quests, sell items , or otherwise interact with you.
As with items, you can search these people in the "Search" bar located on the map in-game.
Ad blocker interference detected!
Wikia is a free-to-use site that makes money from advertising. We have a modified experience for viewers using ad blockers

Wikia is not accessible if you've made further modifications. Remove the custom ad blocker rule(s) and the page will load as expected.