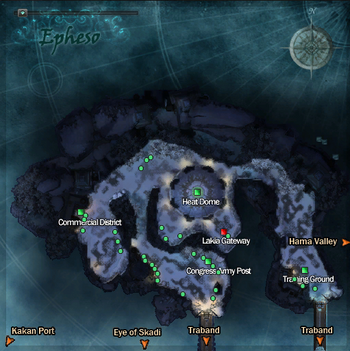 Epheso is a town in northern
Traband
. This town is a pve zone and is safe from other nations.
Randy Panebik teleports players back to Lakia and is located behind the Heat Dome.
There are three other NPCs to the west of Randy that teleport players to the ports , Drago, or Hidden Argent Forest.
It has similar merchants as located in Regenshein and Cirrugor.
You can purchase level 70 mount recipes, Honor Equipment, and Items from Madison Lech using Coldwave Crystals.
Below is a list of NPCs, Coordinates, and their Significance.
NPCs are "Non-Playing Characters" that give you quests , complete quests, sell items , or otherwise interact with you.
As with items, you can search these people in the "Search" bar located on the map in-game.
Ad blocker interference detected!
Wikia is a free-to-use site that makes money from advertising. We have a modified experience for viewers using ad blockers

Wikia is not accessible if you've made further modifications. Remove the custom ad blocker rule(s) and the page will load as expected.