Guard Diego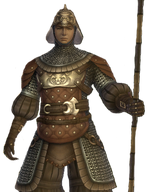 NPC Info

This is one of the 1st NPCs you will encounter. He gives vital plot quests that must be completed to get your 1st free inventory bag.
He is located at Overvold Farm next to Lilola Hawn.
Quests Given
Edit
Quests Ending
Edit
Ad blocker interference detected!
Wikia is a free-to-use site that makes money from advertising. We have a modified experience for viewers using ad blockers

Wikia is not accessible if you've made further modifications. Remove the custom ad blocker rule(s) and the page will load as expected.